HOMUNCULUS
1. [In the long-discredited theory known as "preformationism":] A very tiny adult human being that in past ages was naïvely believed to inhabit a sperm cell and which supposedly became a mature individual merely through merging with an egg cell and then increasing in size.
2. [In the philosophy of mind:] The equally naïve theory that there is something like an entire "little man" inside a human head who processes incoming information from the senses and comprehends it. This leads to an infinite regress, since presumably that little man would require an even smaller little man in his head, and so forth! This theory arose because people could not yet make sense out of how ideas and other mental phenomena arise in the functioning of a material brain.
"Many of us ... imagine a little person inside the head watching sensory inputs, then telling the muscles what to do. It took a long time for scientists to realize that ascribing thought to a little person inside the head is the equivalent of asking, 'What makes a car move?' and answering, 'Another little car inside' rather than 'An engine.' But to explain thinking, it is all too easy to argue in a circle. And that classic beginner's mistake is not always innocuous; it sets you up to view a fertilized egg as also containing a little person inside." —William H. Calvin, "The Fate of the Soul", Natural History, June 2004, p. 55. [Calvin suggests elsewhere in this article that this naïve conception is one of the reasons that many people oppose abortion and wrongly view it as being a form of "murder". —S.H.]
HORIZONTALIDAD
See also the HORIZONTALISM entry below.
"The term 'horizontalism,' from the Spanish horizontalidad, was first used in Argentina after the 2001 popular rebellion there. In what we can now see was a dress rehearsal for the current global [Occupy] movements, Argentines, during an economic crisis, went out into the streets by the hundreds of thousands. Banging pots and pans (cacerolado) and serenading officials with 'Que se vayan todos, que no quede ni uno solo' ('They all must go, not even one should remain'), the protesters forced out five consecutive governments. In the process they formed the first neighborhood assemblies grounded in horizontalidad, a word that had not been used previously. Movement participants described horizontalidad as the most natural way to listen and to connect to one another. They rejected representative democracy and the empowerment of leaders that such delegation of authority entailed, for this kind of politics was thought to have caused the crisis in the first place. The spirit of horizontalidad simultaneously emerged in workplaces and movements of the unemployed and then into the fabric of countless social relationships, where it was seen as a tool to create more participatory and freer spaces for all—a process of awakening and empowerment similar to that which Eduardo Galeano portrays as occurring in Utopia. Horizontalidad has since become a word and expression used throughout the world to describe social movements seeking self-management, autonomy and direct democracy." —Marina Sitrin, "Horizontalism and the Occupy Movements", Dissent magazine, Spring 2012. (Ms. Sitrin is one of the theorists of the Occupy Movement.)
[While the absence of genuine democracy in Argentina and the entire world as it exists today is certainly an extremely serious problem, the commentary above misdiagnosed this as the basic "cause" of the Argentine economic crisis. The real fundamental causes are the workings of the capitalist-imperialist system, and the exploitation of many of the lesser developed "Third World" countries by the imperialist powers, currently led by the United States. The lack of genuine democracy in Argentina and the world is itself another consequence of imperialist bourgeois class rule. The economic and social problems in Argentina—including the absence of real democracy—cannot be overcome until Argentina undergoes an anti-imperialist, socialist revolution.
[While it is true that the spontaneous movement of the masses in Argentina did depose several governments in turn, in the end this movement dissipated and the bourgeoisie reestablished full control. The rebellion collapsed, and no successful revolution proved to be possible in the absence of serious revolutionary organization and leadership. See the entry immediately below on HORIZONTALISM for more on this topic. —S.H.]
HORIZONTALISM [In Politics]
An anarchist-like theory that argues that there need not be, or even "cannot be", any central leaders, leadership bodies, or developed structure to successful people's movements and social revolutions. Instead, this theory envisions that all decisions will be made via "direct democracy", where everyone concerned participates in person, without any representatives or leaders. Something like this theory has often been implicit in traditional anarchist thinking, though the term 'horizontalism' itself first arose in Argentina in 2001 [horizontalidad: see above entry], and has mostly been popularized since then by individuals seeking to draw grand theories from the very limited initial euphoric experience of the Occupy Movement in the U.S. and similar spontaneous mass movements in other countries (especially Spain and Greece). Such "horizontalist" practice has never been successful in achieving any major and lasting goal, any place in the world. Instead, it is a phenomenon often associated with spontaneous mass movements, which inevitably fall apart and end in disillusioned failure for the masses who were involved.
Marina Sitrin, a theorist who developed within the Occupy Movement in the U.S., presents the argument for horizontalism this way:
"The intention of the thousands of assemblies taking place around the United States [in the Occupy Movement], as well as in Greece and Spain, where I have been most recently, is to open spaces for people to voice their concerns and desires—and to do so in a directly democratic way. These movements emerged in response to a growing crisis, the heart of which is a lack of democracy. People do not feel represented by the governments that claim to speak in their name. The Occupy movements are not based on creating either a program or a political party that will put forward a plan for others to follow. Their purpose is not to determine 'the' path that a particular country should take but to create the space for a conversation in which all can participate and in which all can determine together what the future should look like. At the same time, these movements are attempting to prefigure that future society in their present social relationships.
"The Occupy movements throughout the United States, Spain, and Greece all have sought to use direct democracy to create horizontal, nonhierarchical social relationships that would allow participants to openly engage with each other. The term 'horizontalism,' from the Spanish horizontalidad, was first used in Argentina after the 2001 popular rebellion there.... [See the entry above for more on Argentina.]
"In addition to cultivating horizontalidad, Occupy movements have also created new territories in which forms of direct democracy can flourish. The alternative structures and actions of the Occupy movement have emerged in these new geographic spaces of assembly. Here basic necessities, such as food, legal support, and medical care are coordinated. Novel actions have included the occupation of homes in the United States to prevent evictions and of cash offices in hospitals in Greece so people do not have to pay the newly imposed cost of health care. Towns and cities across the United States have created barter networks, generated alternative adjudication processes, and instituted free childcare. I know of one village in Northern California where people are using an alternative currency and another town outside Albany, N.Y., that has set up a free medical clinic. This is all self-organized horizontally.
"... [T]he Occupy movements will continue to grow. The question for the future is not how to create a plan for what a better country will look like, but how to deepen and broaden the assemblies taking place and how to enhance participatory democracy in the process.
"... [W]hile there are many challenges ahead, the Occupy movements have been and will continue to be successful." —Marina Sitrin, "Horizontalism and the Occupy Movements", Dissent magazine, Spring 2012.
Unfortunately, even as Ms. Sitrin was writing, the Occupy movement was falling apart, and in the year and more since then it has virtually disappeared. Of course the Occupy movement was a very positive thing, and there are many lessons to be learned from it. But one of the most important of these lessons is that organization and leadership must develop from the mass movement if that movement is ever to be successful over the long run. When you look at Ms. Sitrin's presentation there are many striking aspects to it. First, it is remarkable how much of it is really only liberal utopianism. It posits changing society without really changing it all that much. It doesn't mention capitalism or socialism! It doesn't even mention social classes! It tacitly supposes that capitalist society can be reformed into some utopian paradise, and that the rulers of society will allow this to happen without resorting to violence to stop it. It imagines that this can all be accomplished even without mass organization, even without any leadership arising from the masses, even without a revolutionary party, and even without an actual social revolution!
Well, it is easy to laugh at the total naïvete of this theory of "horizontalism", and its petty-bourgeois class basis. How a world of billions of people could operate by constant "direct democracy" and without any leadership or organization is absolutely incomprehensible. But there is behind such horizontalist fantasies a valid worry: How can we trust our leaders and our representatives to really represent the interests of the people, and to truly lead us in satisfying those interests over the long term? People like Ms. Sitrin and most of those thousands who were in the Occupy movement have very correctly given up on the establishment Democratic and Republican parties in the U.S. They quite properly do not trust those parties, and their "leadership", to represent the interests of the working class and ordinary people. They see the rich, "the 1%", are running things in their own interests, and they also see the failure of revisionist regimes of the Soviet Union and contemporary capitalist China to do things in any fundamentally different way.
But what they don't see is that there is another way of generating leaders and organization from the masses and the mass movement. What they don't see is that there are methods of leadership (especially the mass line) through which such a leadership can lead the mass movement in a truly democratic way. And what they don't see is that the people can be educated to keep a close eye on their leaders, to rotate them from the masses, and to knock them down again if they even begin to put their own interests above those of the people. They don't know about the Great Proletarian Cultural Revolution in China, and what has been learned from that about how to do an even better job of governing our leaders in the future. These are some of the important things we need to explain to the people in the course of demonstrating them in our own revolutionary practice. —S.H.
"Not a single class in history has achieved power without producing its political leaders, its prominent representatives able to organize a movement and lead it." —Lenin, "Urgent Tasks of Our Movement" (1900), LCW 4:370.
HORN, Joshua S. (1914-1975)
"Dr. Joshua S. Horn lived and worked in China from 1954 to 1969 as an outstanding surgeon and an involved political person, serving the people through a firm understanding of the unity of politics and medicine.
"Active in the English workers' struggles of the 1930s, Dr. Horn visited China in 1937 as a ship's doctor after giving up a lectureship in anatomy at Cambridge. In 1939 he joined the British Communist Party. While serving as a surgeon during World War II he developed a special interest in traumatology, the treatment of severe injuries.
"In 1954 he left a secure post as a consultant surgeon in England and went to China with his family to make what he thought would be his 'best political contribution.' His book Away With All Pests, which describes the achievements of revolutionary medicine in China, is a fine memorial to his work and the development of his political consciousness. Its publication, like his other writings and his extensive speaking tours throughout the United States and Europe, helped build friendship with China. In word and deed he set an example of internationalism.
"Dr. Horn died on December 17, 1975, in Peking after a long illness. His friends will remember him for his sense of humor, his liveliness, his enthusiasm, and the revolutionary outlook that inspired his work and service."
—D. Sipe, adapted from his obituary about Joshua Horn, in New China magazine, vol. 2, no. 1, June 1976, p. 4.
HOUSE UN-AMERICAN ACTIVITIES COMMITTEE
A committee of the U.S. Congress which focused on attacking communists and even liberal reformists. The viciousness of this committee was matched only by its remarkable ignorance.
"Although not as famous as its later McCarthy hearings, the 1938 HUAC testimony had memorable moments. For example, at one point a congressman asked whether Elizabethan playwright Christopher Marlowe was a Communist and inquired if 'Mr. Euripides' was guilty of teaching class consciousness." —Michael Edmonds, Wisconsin History magazine, Spring 2011, p. 48; original transcripts in Investigation of Un-American Propaganda Activities in the United States: Hearings, vol. 4, U.S. Gov. Printing Office, 1938-1944, pp. 2857-8.
[Question from the HUAC Committee:] "Do you have the opportunity to inject into your plays... the beliefs of communism?"
[Joseph Papp:] "Sir, the plays we do are Shakespeare's plays... I cannot control the writings of Shakespeare."
—Testimony at a HUAC hearing in June 1958; quoted in Newsweek, Nov. 23, 2009, p. 55.
HOUSEHOLD INCOME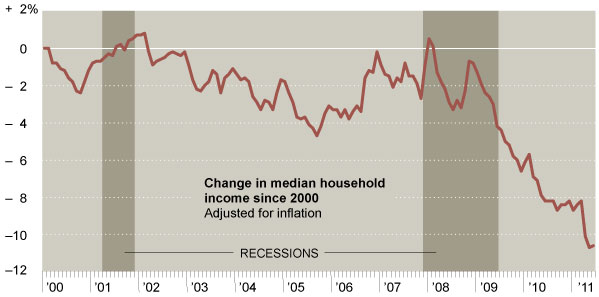 The total income of all the workers in a given household, from all sources (including not only wages, but also interest and investment income). (Gross income is the income before the payment of income taxes; net income is after the payment of income taxes. Usually the unqualified term "household income" means gross household income.)
The "average household income" is the total of all household income for the country or region divided by the number of households. The "median household income" is the value for which 50% of all households have a greater income and 50% have a smaller income. For most purposes the median income is a much better social indicator since the average income is generally grossly skewed in capitalist society because of the vast incomes of the small number of very rich households (the bourgeoisie).
The graph at the right shows the percentage change in the median household income in the U.S. since 2000. Note that the rate of decline has been speeding up as the current economic crisis intensifies.
Household income is not the same as personal income, since there is typically more than one person in a household. The term family income is often used as a synonym for household income, though the U.S. Census Bureau defines household income in a slightly broader way (and including all those who live in the same home even if they are not part of a single family).
"The economic boom that peaked in 2007 represented the first time that median real (that is, inflation-adjusted) incomes did not recover to their previous peak before declining into the next recession. More ominously, family incomes have yet to recover, even though the recession ended three and a half years ago. That has brought the total decline in real incomes to nearly 9 percent since 2000. So where has the economic growth from the recovery gone? Much of it has gone to corporate profits, as companies took advantage of the high unemployment rate and the ability to shift production globally to hold down wages in the United States." —Steven Rattner, "America in 2012, as Told in Charts", New York Times, Dec. 31, 2012.
HOUSING BUBBLE
An asset bubble in the prices of houses. In other words, a tremendous and unjustified rise in the prices of houses due to massive government financial support and/or one form of private speculation or another.
In the 1997-2007 period in the U.S., for example, and especially in the latter years from 2003-2007, many speculators began buying houses—often not in order to live in them themselves—but in order to sell them again later after the prices rose some more. Even for many of those who did live in these houses in the meantime, this was close to pure speculation, which was promoted by banks and the government through low or non-existent down payments and very low interest rates. This particular housing bubble was also promoted by banks through securitization of mortgages in the form of CDOs. This allowed the banks to escape any risk on the mortgages they had already issued, and continue to issue new risky mortgages to those with "sub-prime" (poor) credit.
Housing bubbles, like all asset bubbles, always pop eventually, and the 1997-2007 bubble began to pop in late 2007. (House prices actually peaked in 2006, but at first the declines were quite small.) However, even though episodes of bubble popping can be dramatic, it takes time for them to completely deflate. Sometimes they are even partially reinflated for a while. Thus while the recent U.S. housing bubble has considerably deflated from its peak, it is still a substantial bubble. For that reason, the government is going to great lengths (and great expense) to try to "prop up" the housing market, or, in other words to try to reinflate the present housing bubble. "The government is literally plowing trillions of dollars into the U.S. mortgage market to keep it afloat", said Guy D. Cecala, publisher of Inside Mortgage Finance in October 2009.
Housing bubbles are a common development in advanced capitalist countries in the imperialist era. There was a huge housing bubble which popped in the Great Depression of the 1930s and a bigger bubble which popped in the late 1980s-early 1990s with the Savings & Loan Crisis. But by far the biggest housing bubble, especially in the U.S. but also in Britain, Spain and other countries, is the current one which is by no means resolved yet.
"Should we let housing prices fall? Many smart people say we should. It seems increasingly clear that we must. For how long can the government prop them up? Are we never to have a private market in mortgages again? Yet what happens if we let them fall? Arguably many banks would once again be 'under water.' Enthusiasm for another set of bailouts is weak, to say the least. Our government would end up nationalizing these banks and it still would be on the hook for their debts. The blow to confidence would be a major one. I increasingly believe there is no easy way out of this dilemma and it is a major reason why the U.S. economy remains stuck. Housing prices must fall, yet ... housing prices must not fall." —Tyler Cowen, a bourgeois commentator, on the website MarginalRevolution.com, Sept. 8, 2010; as quoted in The Week, Sept. 24, 2010, p. 48.
[This is one of the many specific contradictions that the U.S. capitalist economy has gotten itself into. About 80% of U.S. bank loans are in the form of mortgages, and for many decades now the heavy government promotion of housing debt is one of the major factors that has been keeping the economy from sinking into a new depression. So they must continue to promote this housing bubble. But it is getting ever more difficult and costly to do so, and the bubble must more completely collapse in the end. That is their current predicament. —S.H.]
"Since 1997, we have lived through the biggest real estate bubble in United States history—followed by the most calamitous decline in housing prices that the country has ever seen.
"Fundamental factors like inflation and construction costs affect home prices, of course. But the radical shifts in housing prices in recent years were caused mainly by investor-induced speculation....
"The great housing bubble of the 2000s was diffused widely through the population and didn't owe its beginnings to any single promotional scheme. The bubble became so big apparently because of a number of kinds of financial promotion—of subprime mortgages, no-down-payment mortgages, securitized mortgages and other innovations." —Robert J. Shiller, "Before Housing Bubbles, There Was Land Fever", New York Times, April 20, 2013. [Shiller is a bourgeois economist and a leading expert on housing prices.]
HOUSING QUESTION, The [Pamphlet by Engels]
A collection of articles, soon also issued as a pamphlet, that Engels wrote in 1872-1873 for the publication Volkstaat about the serious housing shortage for workers in Germany at that time. These articles also examined the various reformist nostrums proposed for dealing with this problem, and criticized and exposed them and their proponents. His central point was that a policy of housing reforms cannot possibly replace the revolutionary program of the proletariat because "it is not that the solution of the housing question simultaneously solves the social question, but that only by the solution of the social question, that is, by the abolition of the capitalist mode of production, is the solution of the housing question made possible."
This work by Engels is available online at: http://www.marxists.org/archive/marx/works/1872/housing-question/index.htm
"In this book Engels deals with a secondary consequence of the economic law of development of capitalism—the housing question. He shows how not only bad and unhealthy housing, but a housing shortage and high rents, affecting not only the working class but large sections of the middle class also, result from the rapid development of industrial capitalism. He discusses various schemes proposed for solving the housing problem, and concludes that this problem is integrally connected with capitalism and that only by the ending of capitalism will the housing question be finally solved.
"It first appeared in the form of three articles in the German socialist press in 1872—when the industrial boom following the end of the Franco-Prussian War, and the rapid growth of cities, had made the housing problem loom large in Germany. The articles are strongly polemical in character—directed against petty-bourgeois socialists (revivers of the discredited ideas of Proudhon) who were pushing the housing question into the forefront and pretending that their quack remedies for it would transform society.
"What are the principal questions dealt with in the articles?
"1. Engels exposes the fallacy of those socialists who fancy they can transform capitalism by a few legal reforms.
"2. Engels deals with the proposal to solve the housing problem by ensuring that every worker shall own 'his own little house.' He shows that this is a utopia, and moreover not a socialist proposal but a thoroughly reaactionary proposal. And in this connection he explains the true economic relation between landlord and tenant and the nature of house rent. The landlord-tenant relation is not like the relation between capitalist and worker, but is based on an ordinary sale and purchase transaction between two citizens. The landlord sells the use of the house to the tenant.
"3. Engels proves that the capitalists, while forced to agree to various steps to alleviate the housing problem, do not want to solve it; and that housing schemes initiated by the capitalist state do not solve it either. He enters in some detail into questions of building societies, state aid for housing, factory housing schemes, town planning.
"4. Engels shows how, with the seizure of power by the proletariat, exiting housing can be utilized for the benefit of the working class; and he shows how the eventual solution of the housing question will be bound up with the abolition of the antithesis between town and countryside."
—Maurice Cornforth, Readers' Guide to the Marxist Classics (London: 1952), pp.39-40.
HUA GUOFENG [Old style: HUA KUO-FENG] (1921-2008)
The designated successor to Mao Zedong as the Chairman of the Chinese Communist Party, who was also the Premier of China and thus for several years the top leader of both the Party and government of China. He performed ineptly, arrested or alienated the more Maoist forces in the Party, and was outmaneuvered in the struggle for power by the more bourgeois reactionary forces led by Deng Xiaoping.
"Hua Guofeng" was his Party name (or nom de guerre); his real name was Su Zhu. He was born into a family of poor peasants and completed primary school, but probably received no further formal education. He joined the revolutionary ranks in 1935 when the Communist forces reached his area following the Long March. His early career was as a cadre in Hunan province and he was involved in directing land reform work there in the early to mid-1950s. Hua served as Party secretary in the province beginning in 1970.
During the Cultural Revolution Hua, with the support of Zhou Enlai, was named to the preparatory group for the establishment of the new Revolutionary Committee of Hunan. He was first elected as a member of the Central Committee of the CCP at the Ninth Party Congress in 1969. In 1973 he became a member of the Politburo, and was then appointed Deputy Premier and head of public security (1975-76). After Zhou Enlai's death in January 1976, Hua Guofeng became Premier. In his last days Mao designated Hua to succeed him as Party Chairman. In addition to the Premiership and Party Chairman position, he also was soon designated as the Chairman of the Central Military Commission, thus holding all the top formal positions of power in his hands.
The official story is that the "Gang of Four", Mao's closest followers including his widow Jiang Qing, were planning a coup to overthrow Hua and his associates, but that Hua pre-empted this by arresting the "Gang of Four" and their top supporters. [It is still not completely clear what the precise actual situation was then, but the fact remains that Hua arrested and overthrew the "Gang of Four" in his own coup supported by the reactionary forces.]
Hua Guofeng then brought the Cultural Revolution to a complete end and began reversing some of its policies. It seems he was attempting to move the economy back toward the Soviet-style bureaucratic and commandist form of the late 1950s in China. However these backward steps were not enough for the more bourgeois forces in the Party, and especially for Deng Xiaoping who also hungered for yet another return to personal power. With the support of the large number of national bourgeois forces still within the CCP, Deng outmaneuvered the hapless Hua and forced him into early retirement. Hua was forced to resign as Premier in 1980 and was formally replaced as Party Chairman in September 1982.
Despite the major and prolonged campaigns within the CCP during the 1966-1976 period against capitalist roaders, they were still a very strong presence in the Party. This was because so many non-Marxist nationalists had joined the Party during the anti-imperialist struggles and the period of the New Democratic Revolution. Probably the only way a bourgeois restoration could have been avoided over the long run was to keep the Cultural Revolution going at one level or another on a more or less permanent basis. Hua did not understand that it was essential to do this.
From a historical standpoint Hua Guofeng must be viewed as a somewhat pathetic transitional figure whose own insufficient grasp of Marxism and insufficient revolutionary zeal ended up playing into the hands of Deng Xiaoping and the bourgeoisie.
HUKOU SYSTEM
The system of household registration and residency permits in China which dates back to ancient times, but which has also been a prominent feature of the People's Republic of China. A registration record officially identifies a person as a resident of some locality and includes other information including the person's parents, spouse, and date of birth. In Chinese the formal name of this system is huji, and a hukou is the residency status of a person. But informally, hukou is also the name for the system, and that is what this registration system is called in English.
In 1958 the PRC officially promulgated the family registration system to establish some general social stability and to control the movement of people from rural to urban areas. During the socialist period the government was attempting to keep the migration from the countryside to the cities from occurring in a premature and disorderly fashion. In general, the movement to the cities was limited to the workers and families needed to fill the new jobs which were opening up in the rapidly expanding socialist industries there.
In recent decades, since the restoration of capitalism in China, the hukou system has been officially kept in place. But to accomodate both local and multinational capitalist corporations, and their need for cheap labor from the countryside, it has generally not been enforced. This has led to tens of millions of migrant workers living technically illegally in the cities, and having no rights to public housing, education, and other social benefits there. This has created a massive and growing social problem of gross discrimination against migrant workers. Since migrant workers are not allowed to enroll their children in urban schools, most of these children must remain with their grandparents or other relatives in the countryside, which means they are in effect forcibly separated from their parents. By 2005 there were as many as 130 million of these "home-staying children", as they are called in China, with parents living away from them in distant cities.
In many respects, the lives of migrant workers in China are similar to that of illegal migrant workers in the U.S. and other "advanced" capitalist countries. They are needed and exploited by urban capitalists, but they are paid extremely low wages and are denied many rights and benefits that other people have. This discrimination against well over a hundred million migrant workers in China is one of several important factors leading to rapidly increasing social unrest. In recent years, although the central government loosened its control over the hukou system, it mostly just transferred this control and discrimination to the local governments. And although the movement of people to the cities became unofficially allowed, the super-exploitation and discrimination against them that awaited them there was as bad as ever. That part of the hukou system still continued unabated.
However, in December 2013 the Chinese government announced that it would be ending the hukou system, some aspects of it immediately, and some aspects gradually over time. This is being done for several reasons. The increased social unrest caused by mistreated migrant workers in the cities was seriously worrying the ruling class. And the government has somewhat changed direction by even more strongly promoting urbanization. It came to the conclusion that it would actually promote economic development to increase the speed of urbanization in China. This view may have some partial validity to it, though it also may well end up promoting the creation of massive slums in China if more and more of the millions of rural people being rapidly moved to the cities are unable to find jobs.
HUMAN KNOWLEDGE
See also: AGNOSTICISM, KNOWLEDGE, REFLECTION THEORY, THEORY OF KNOWLEDGE
"For the most valuable result ... would be that it should make us extremely distrustful of our present knowledge, inasmuch as in all probability we are just about at the beginning of human history, and the generations which will put us right are likely to be far more numerous than those whose knowledge we—often enough with a considerable degree of contempt—have the opportunity to correct." —Engels, Anti-Dühring (1878), MECW 25:80.
"But as for the sovereign validity of the knowledge obtained by each individual thought, we all know that there can be no talk of such a thing, and that all previous experience shows that without exception such knowledge always contains much more that is capable of being improved upon than that which cannot be improved upon, or is correct." —Engels, ibid.
"Human knowledge is not (or does not follow) a straight line, but a curve, which endlessly approximates a series of circles, a spiral. Any fragment, segment, section of this curve can be transformed (transformed one-sidedly) into an independent, complete, straight line, which then (if one does not see the wood for the trees) leads into the quagmore, into clerical obscurantism (where it is anchored by the class interests of the ruling classes). Rectilinearity and one-sidedness, woodenness and petrification, subjectivism and subjective blindness—voilà the epistemological roots of idealism. And clerical obscurantism (=philosophical idealism), of course, has epistemological roots, it is not groundless; it is a sterile flower undoubtedly, but a sterile flower that grows on the living tree of living, fertile, genuine, powerful, omnipotent, objective, absolute human knowledge." —Lenin, "On the Question of Dialectics" (1915), LCW 38:363.
HUME'S PARADOX
The supposed mystery that a small class of rulers can (most of the time!) manage to control and govern the vastly more numerous masses who they exploit and oppress. Here is the euphemistic way that Hume himself originally put it (of course without any reference to social classes or exploitation!):
"Nothing appears more surprising to those who consider human affairs with a philosophical eye, than the easiness with which the many are governed by the few." —David Hume, The First Principles of Government (1742).
While certainly regretable, Hume's "Paradox" should not be too surprising to Marxists who understand that one of the basic principles of historical materialism is that the dominant ideas of any age are those of the ruling class. While the rule of "the few" over "the many" can unfortunately last for a long time, in historical terms the rule of the exploiters and oppressors is still precarious. All it takes is one grand moment of revolution to topple the bastards!
HYNDMAN, Henry Mayers (1842-1921)
A founder and leader of the Social-Democratic Federation in Britain and later one of the founders of the British Socialist Party. Hyndman was always one of the leaders of the Right wing of the socialist movement in Britain and a complete opportunist. In 1916 he was expelled from the BSP for putting out propaganda in support of the imperialist war. He was also hostile to the October Revolution in Russia and supported imperialist intervention by the West against Soviet Russia.
"Although Hyndman was a talented writer and public speaker, many members of the SDF questioned his leadership qualities. He was extremely authoritarian and tried to restrict internal debate about party policy. At an SDF meeting on 27 December 1884, the executive voted by a majority of two (10-8), that it had no confidence in Hyndman. When he refused to resign, some members, including William Morris and Eleanor Marx, left the party.
"In the 1885 General Election, Hyndman and Henry Hyde Champion, without consulting their colleagues, accepted £340 from the Tories to run parliamentary candidates in Hampstead and Kensington, the objective being to split the Liberal vote and therefore enabling the Conservative candidate to win. This ploy failed, and the two SDF's candidates won only a total of 59 votes. The story leaked out, and the political reputation of both men suffered from the idea that they were willing to accept 'Tory Gold'." —From the Wikipedia article on Hyndman (as of Feb. 28, 2010).
HYPOTHESIS
[As used in science:] A tentative assumption made in order to draw out and test its logical or empirical consequences. [Merriam Webster's Collegiate Dictionary, 10th ed.] Quite often competing hypotheses are developed, only one of which will eventually be proven correct or at least become the generally accepted theory explaining the phenomena in question.
"HYPOTHESIS, THEORY, LAW mean a formula derived by inference from scientific data that explains a principle operating in nature. HYPOTHESIS implies insufficient evidence to provide more than a tentative explanation [a hypothesis explaining the extinction of the dinosaurs]. THEORY implies a greater range of evidence and greater likelihood of truth [the theory of evolution]. LAW implies a statement of order and relation in nature that has been found to be invariable under the same conditions [the law of gravitation]." —From the entry for HYPOTHESIS in Merriam Webster's Collegiate Dictionary, 10th ed.
[The use of these terms in Marxist discourse is generally the same or very similar to this. However, on a few occasions Marx referred to tendencies as "laws", as in Part 3 of Volume III of Capital, "The Law of the Tendency of the Rate of Profit to Fall". A few modern Marxists, under the influence of postmodernist ideology, have gone so far as to claim that most or even all laws in social science are "only tendencies"! See: SCIENTIFIC LAWS—As Mere Tendencies. Nearly all Marxists, however, use the words HYPOTHESIS and THEORY pretty much the same as they are generally used in modern science. —S.H.]
"The form of development of natural science, in so far as it thinks, is the hypothesis. A new fact is observed which makes impossible the previous method of explaining the facts belonging to the same group. From this moment onwards new methods of explanation are required – at first based on only a limited number of facts and observations. Further observational material weeds out these hypotheses, doing away with some and correcting others, until finally the law is established in a pure form. If one should wait until the material for a law was in a pure form, it would mean suspending the process of thought in investigation until then and, if only for this, reason, the law would never come into being.
"The number and succession of hypotheses supplanting one another – given the lack of logical and dialectical education among natural scientists – easily gives rise to the idea that we cannot know the essence of things (Haller and Goethe). This is not peculiar to natural science since all human knowledge develops in a much twisted curve; and in the historical sciences also, including philosophy, theories displace one another, from which, however, nobody concludes that formal logic, for instance, is nonsense." —Engels, Dialectics of Nature (1883), "Notes and Fragments", online at: http://www.marxists.org/archive/marx/works/1883/don/ch07c.htm
HYSTERESIS
[As used in recent bourgeois economics:] The lingering effects of a recession which continue to retard economic growth years after the recession is officially deemed to be over.
As bourgeois economists define recessions, they are "over" when production (GDP) starts to increase again, even if the rate of increase is very slow, and even if production still has not reached the level that existed before the recession began! However, this is being called "hysteresis" only when over a longer multi-year period the rate of GDP growth still does not fully recover and remains significantly lower than the rate of growth before the recession began. In particular, the term is being used in the aftermath of the Great Recession which is officially dated from December 2007 to the summer of 2009. For bourgeois economists, economic growth since then has been puzzlingly sluggish and they are struggling to understand why that is. They invoke the unscientific concept of "potential output" under capitalism, comparing what rates of growth actually are to what they imagine they "should be" or "would be" if the crisis had not arisen.
Standard bourgeois theory has no good explanation for this hysteresis or lingering retardation of the capitalist economy, hence all the scratching of heads that is now going on. However, the answer is actually rather obvious from the Marxist standpoint: the overproduction crisis is simply not truly over. According to Marx, capitalist economic crises are resolved by the development of new markets (where that is possible) or else through the destruction of the great excess of productive capital which has accumulated since the previous crisis. If those things cannot be done, or at least not fully done, then the crisis will continue indefinitely, at one level or another.
"Many macroeconomics textbooks describe recessions as temporary declines in aggregate demand, when actual output drops below potential output, followed by a recovery period when output returns to potential. However, a number of studies of deep recessions around the world find that recessions have highly persistent effects on output. These effects, sometimes labeled 'hysteresis,' could arise because a recession reduces capital accumulation, scars workers who lose their jobs, and disrupts the economic activities that produce technological progress.
"Experience since the global financial crisis and Great Recession of 2008-09 has strengthened the evidence for long-term effects of recessions, since output in many countries is still highly depressed in 2014, with many forecasters predicting little recovery in the next five years....
"In Long-Term Damage from the Great Recession in OECD Countries (NBER Working Paper No. 20185), Laurence M. Ball uses OECD estimates of potential output in 23 countries to quantify the long-term damage from the Great Recession.... Ball finds that the recent recessions have had dire effects on economies' productive capacity, as measured by OECD and IMF estimates of potential output. In most countries, the fall in potential relative to its pre-crisis trend has been almost as large as the fall in actual output. Consequently, the countries with the deepest recessions have also experienced the greatest long-term damage. By aggregating the 23 countries in his sample, the author finds that the loss of potential output relative to the pre-crisis path is 8.4 percent in 2015. To appreciate the size of this loss, note that Germany accounts for 8.2 percent of the aggregate economy. The total damage from the Great Recession is slightly larger than the loss if Germany's entire economy disappeared." —Les Picker, NBER Digest, November 2014. [NBER is an important association of U.S. bourgeois economists.]
---
Dictionary Home Page and Letter Index